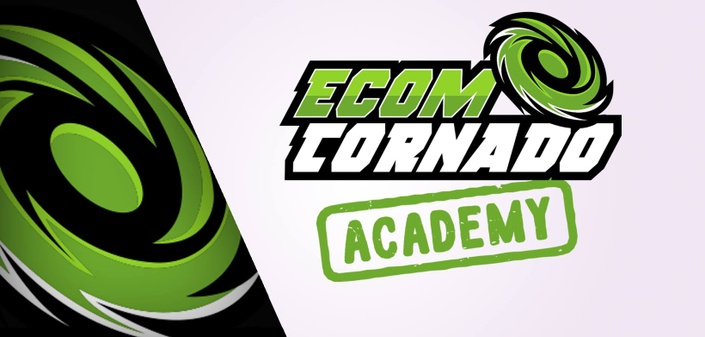 Ecomtornado Academy || A Gift To Ecommerce Community (Check Coupon Code)
From Beginner To Advance Ecom Marketer: Master The Art Of Selling Ecom Products! Use COUPON CODE: NICKLOVESYOU TO Get $997 OFF
"I used to work hard for my money. Really Hard. What's more, I was so busy trying to

scrape together a living, I didn't have time to make any real money.
But after I discovered the secrets I'll reveal today, my life changed almost overnight. I wouldn't say what I do is 'work.' I maybe spend about 10 hours a week testing and tweaking things and now I make 100+ times my former income … and I'd like to show you how …"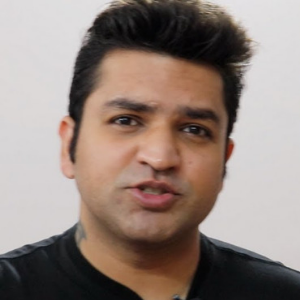 My name is Nick Arora.
I'm not some get-rich-quick, internet marketing "guru" - I'm an ordinary person like you.
I used to have a soul-destroying corporate job but now I have a terrific part-time business I run from my home in New Delhi, that generated total sales of $3.26m just by spending a few hours researching and placing a few ads.
Here are just a few examples of the results I've personally been able to generate for myself and my business partners: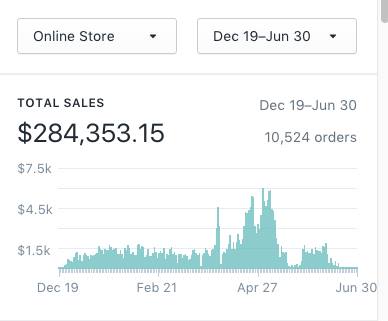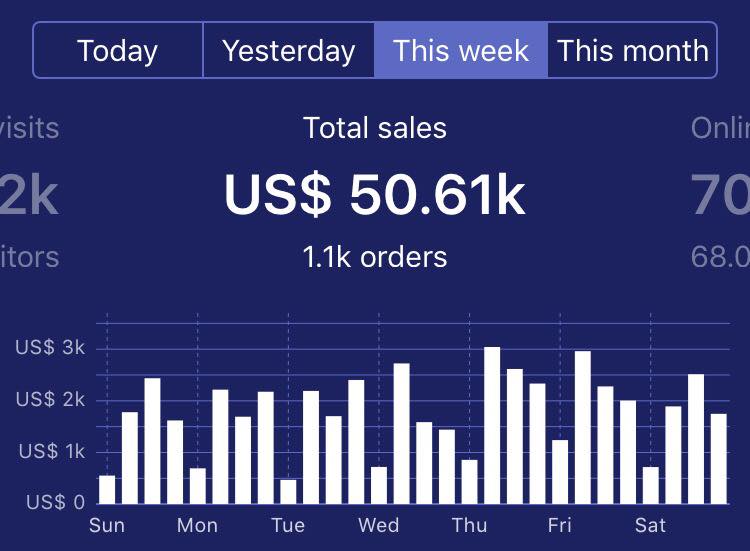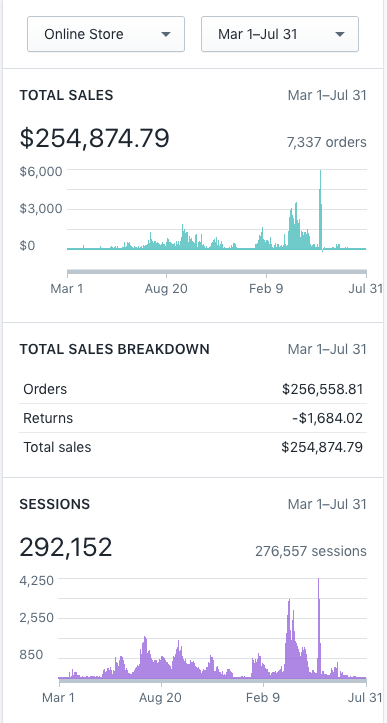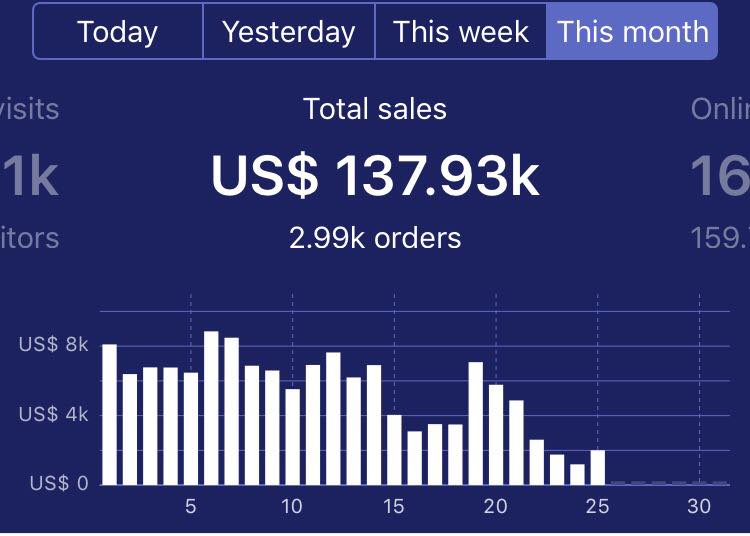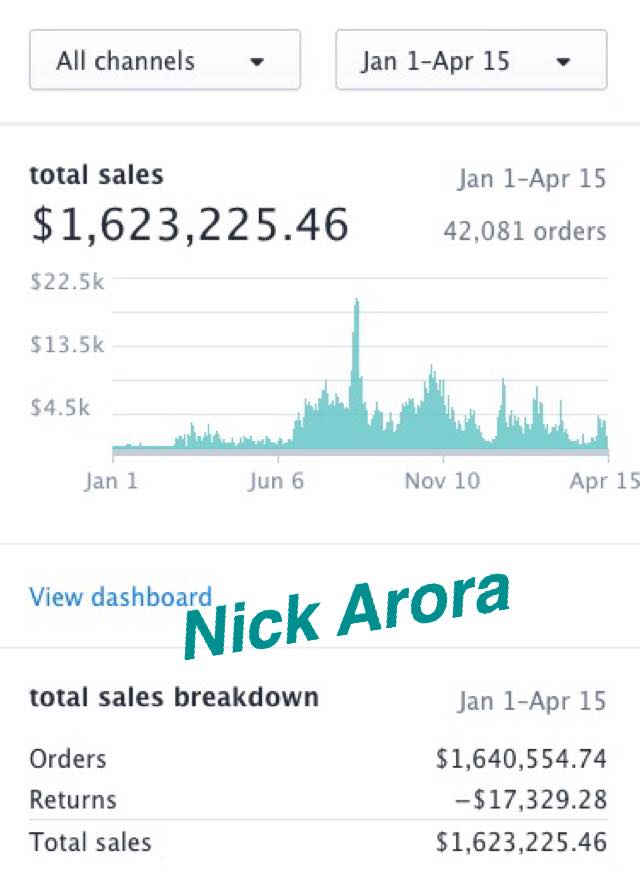 And if you give me a few minutes of your time, I'll share how I did it ...

My Story
Three years ago I was a data analyst for one of the world's most well-known research report companies and even though I was on an OK salary, I was forever struggling to make ends meet.
I shared an apartment with my brother and sister-in-law because couldn't afford a home of my own, and I had zero savings.
I was desperate to "fire my boss," leave my cubicle behind and start my own business.
Whenever I had a spare moment I would trawl through entrepreneurial forums and Facebook Groups trying to find something … anything … I could do in my spare time to generate some extra money.
I started buying and selling expired domains to internet marketers which made me a little extra money every month, but I was working 8 hours a day at my main job and then another 7-8 hours a day at home only getting 2-3 hours of sleep a night before my work day started all over again.
I knew this wasn't sustainable long-term. I knew I had to find a better way of making extra income that meant I wouldn't have to work 16 hours a day.
Over the following months I spent more than $10,000 on dozens of products that were either too expensive to get up and running, no longer working or were just complete bullsh*t.
And then one day in 2016, my world changed.
I was in a Search Engine Rankings Facebook Group when I saw a screenshot from one of my friends showing he'd made $200.
I got in touch to congratulate him and ask what he did. He told me he was having amazing success setting up a Shopify ecommerce store and using cheap Facebook ads with a method that was so simple, he was getting results within 7 days instead of having to wait months for rankings in Google to appear.
I was so used to waiting for weeks and months to rankings in Google to appear for websites, the idea of getting results within days blew my mind.
I immediately began to look for a Shopify ecommerce blueprint to duplicate my friend's success. Unfortunately, the only courses I could find were thousands of dollars which I couldn't afford but luckily, I managed to find a smaller course that would give me just enough information to start.
I managed to borrow $800 from my friend, bought the course, found a $100 Facebook ad credit voucher and stayed up all night researching the products I would sell and launched my first Facebook ad campaigns dreaming about the thousands of dollars of sales I'd be making over the next week.
That didn't quite go to plan, I blew through the ad credit in a few days without generating a single sale.
I was so disappointed, but I was seeing more ecommerce success stories, so I knew this was a winning method. I just had to figure it all out.
So I went "all-in" and decided I would become an expert at ecommerce or die trying. I worked every day testing, tweaking and refining my skills until eventually I cracked the code.
My Results
I didn't make a single profit for three months (I didn't lose a single penny either) but I didn't care, I was building a list of customers for free and I knew it was only a matter of time before the $$$ would come rolling in.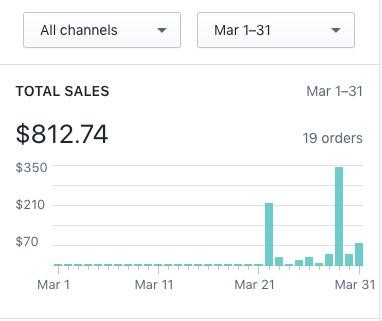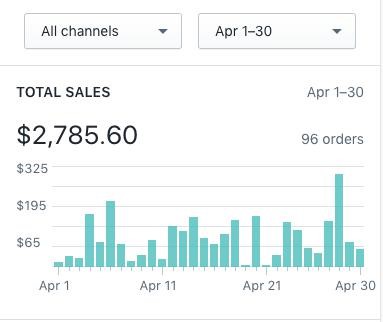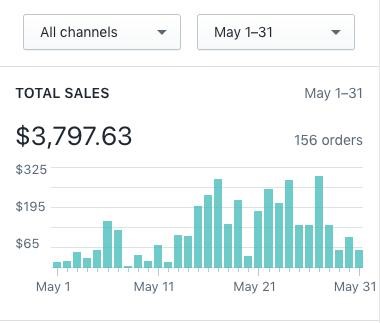 And I was right, by the end of month 4 I'd made $3,000 profit.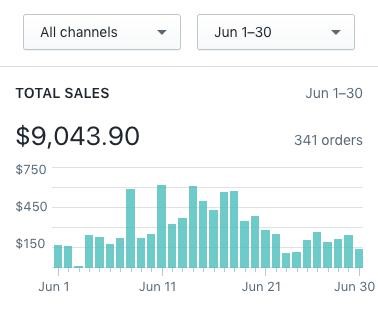 It doesn't seem like much, but that $3,000 made me feel like I had won the lottery.
That was the turning point of my life. I knew from that moment on, I now had the skills to make as much money as I wanted for the rest of my life. I'd never have to worry about money ever again. I was ecstatic.
I quit my job and dove head first into my new life. Days turned into weeks, and weeks turned into months.
Fast-forward to today - last year my 3 ecommerce stores did $1,076,996.43 in sales and I also produced $2,193,347.89 in sales for the 5 ecommerce stores I'm a partner in.
All I do on an average day is spend an hour or two researching products and setting up Facebook campaigns. Once a day, I email the previous day's orders to my suppliers who package and ship them to my customers for me. After that's done, I'm free to do what I please.
No huge $$ investments for inventory. No expensive, multi-year warehouse leases. No need to hire staff to pick, pack and post.
It's the easiest, quickest, most perfect way I've found to make a full-time income to date. And believe me, I haven't had so much fun in years.
I married my amazing wife, Neha, last year and had an incredible, lavish, extravagant wedding – inviting 1000 guests and I paid for the entire thing myself.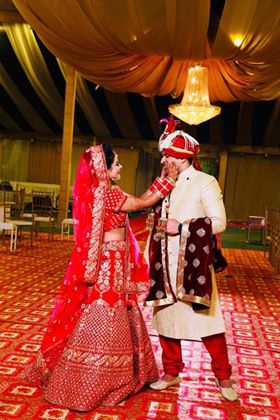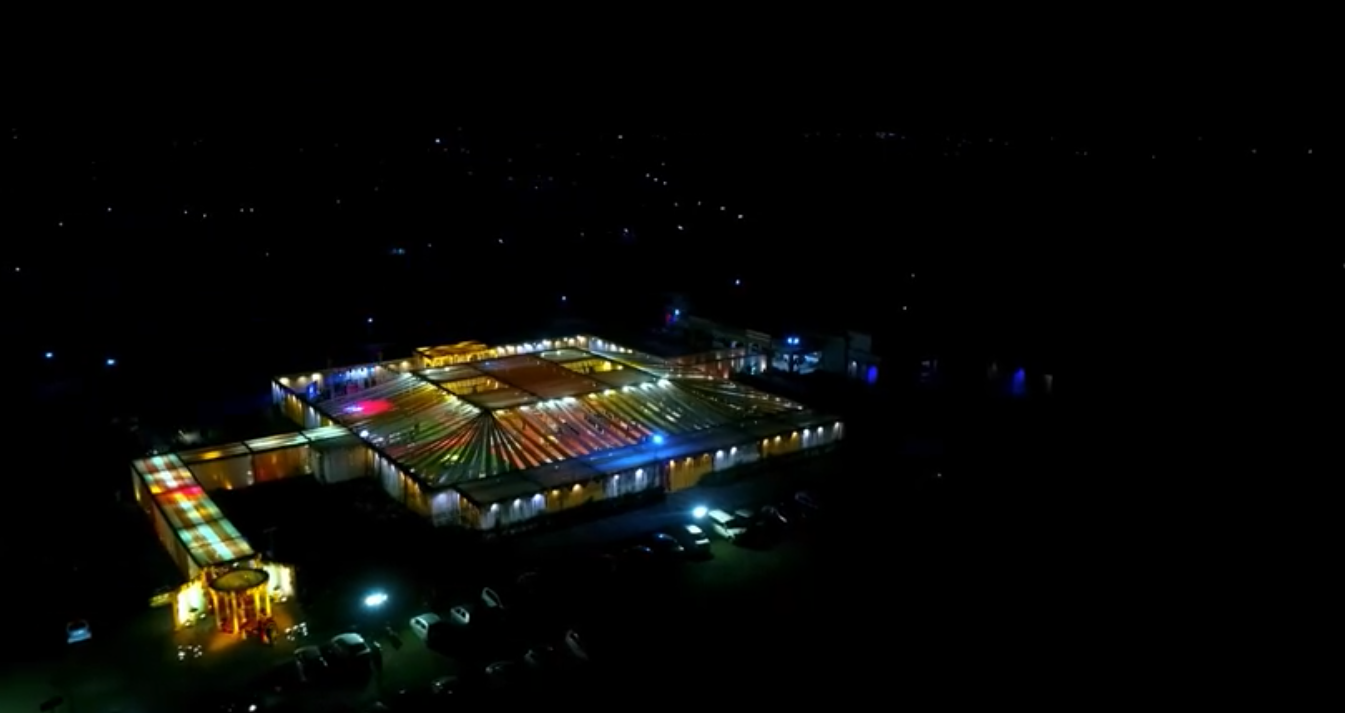 I've been on solo trips to Singapore and Dubai without having to beg any bosses for time off or worry about my expenses.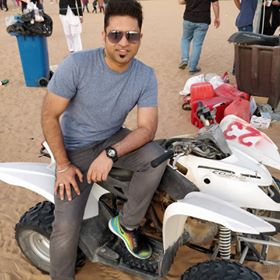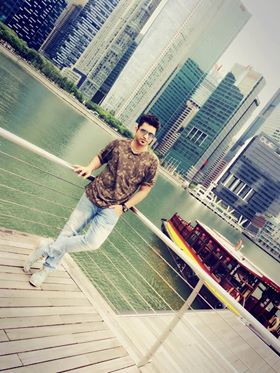 We honeymooned in Switzerland for 2 weeks staying at a 5-star all-inclusive luxury resort and in a few weeks from now we'll be heading to the United States for a 2 week vacation.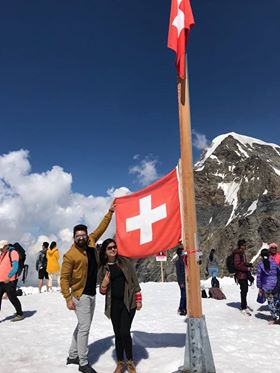 I'm so incredibly grateful to be where I am today and it's all thanks to ecommerce marketing (and of course hard work) and I want to help you break free of your financial shackles and live the life you should be living.
Would You Like To Learn My Secrets?
Over the last couple of years, I've developed breakthrough methods and techniques that are so powerful, they give you the ability to begin making money within a very short period – sometimes within 48 hours.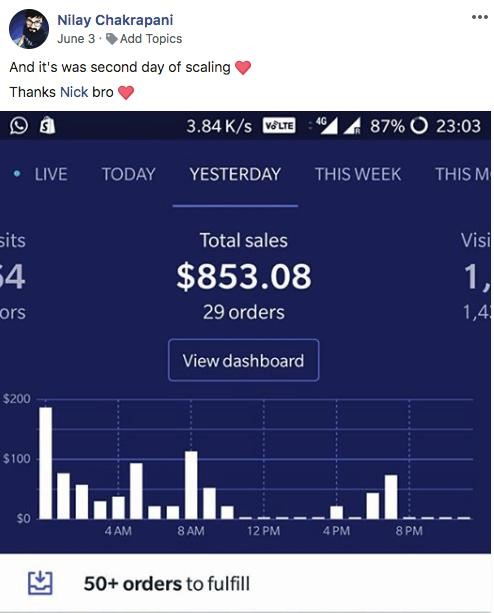 You'll learn strategies so new, so exciting and so profitable, you may want to drop everything you're currently doing and jump right in. Believe me, this is information that can change your life – forever.
Every week for 8 weeks you'll get a new lesson covering a particular aspect of setting up and running a 6 and 7-figure ecommerce business.
This is EXACT same system I personally use whenever I set up my own ecom businesses and what you'd have to pay me $5,000 if you wanted my 1-2-1 consulting help.

If This Information is So Powerful,
Why Would I Share It?

Simple. The $2.29 trillion global ecommerce market is so vast, I won't be competing with you. Nor you with me. Any campaigns I set up now will work for me and pull in profits with a vengeance like they have done before.
In fact, demand is actually increasing as more people come online every day thanks to cheaper smartphones with better and faster Internet coverage, so there's more than enough room for everybody.
Plus, ideas for products and markets to promote to are everywhere. Newspapers, magazines, websites, blogs, forums, TV, radio, cinema, the News – they all give more ideas than can ever be acted upon. And the demand is staggering.
Are you starting to see the possibilities?
As soon as you log into your account, you can start watching the first week's training and if you have any questions, you can ask me and the other students the Core Program's Facebook Group.
How Much Would You Invest For The Knowledge
To Change Your Life Forever?
Students have paid $5,000 for me to personally teach them my methods and were delighted with the results.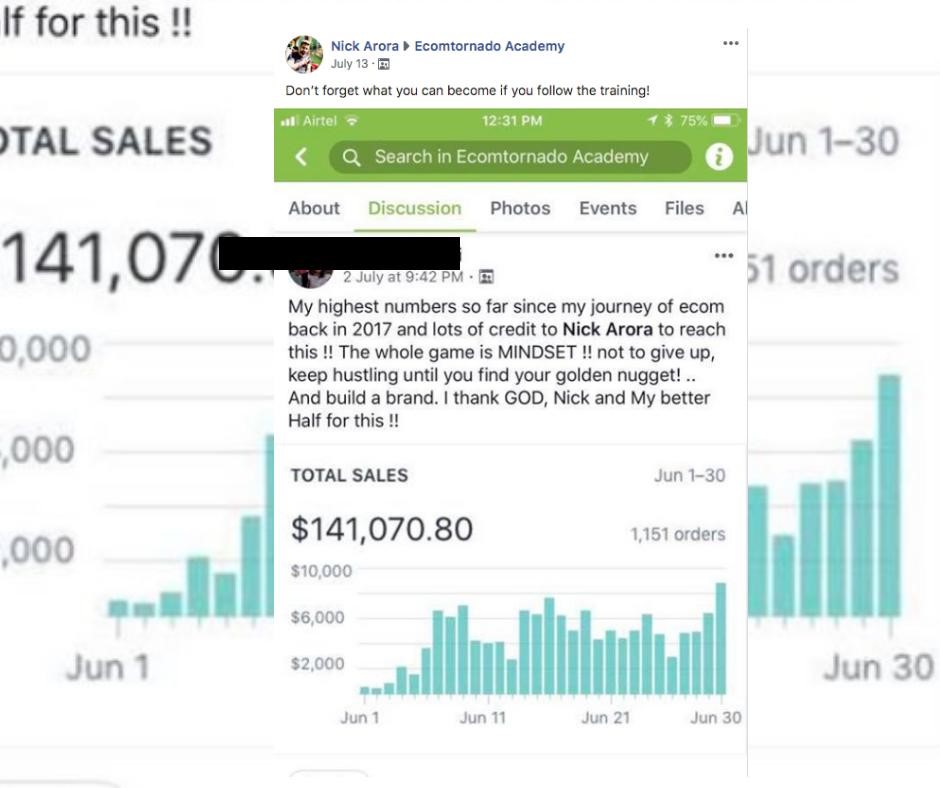 And 38 students invested up to $997 for the first version of this training are also having incredible successes, some making their first money online ever.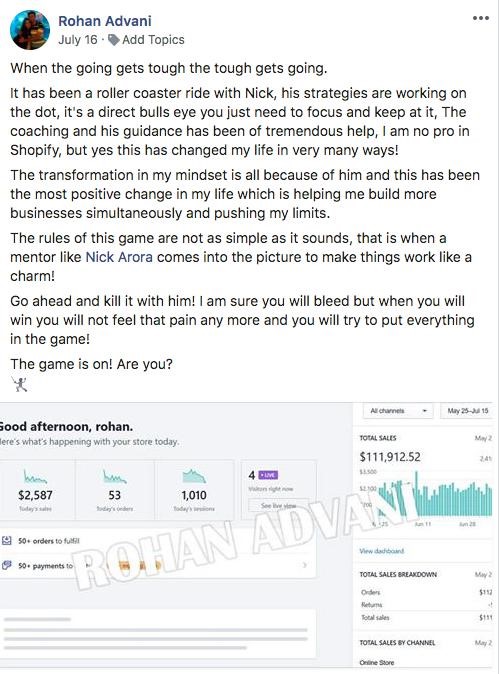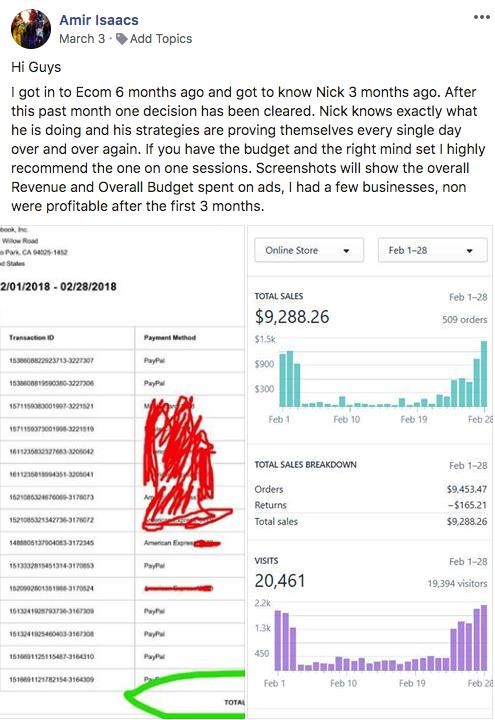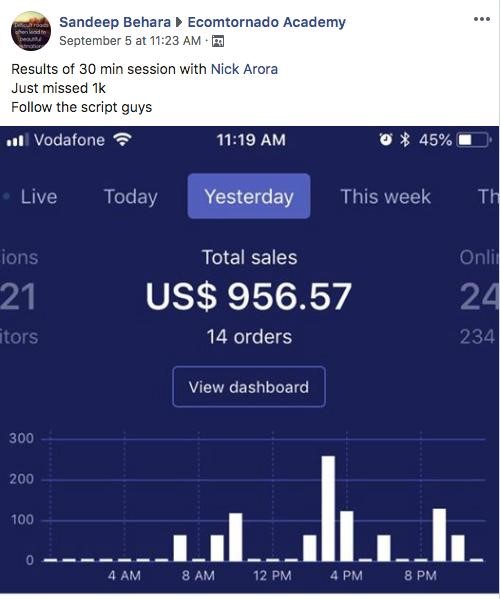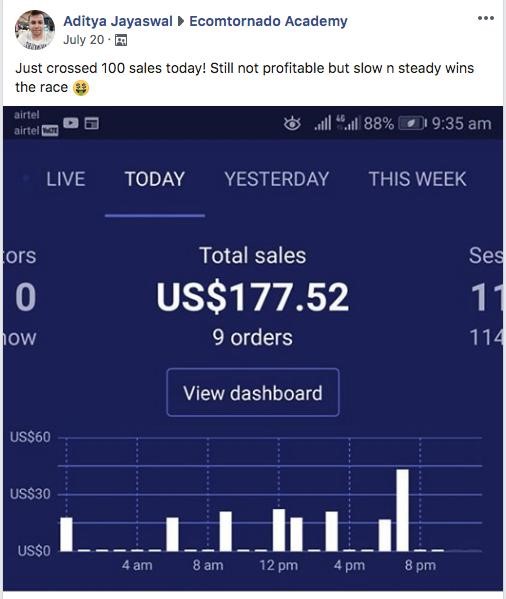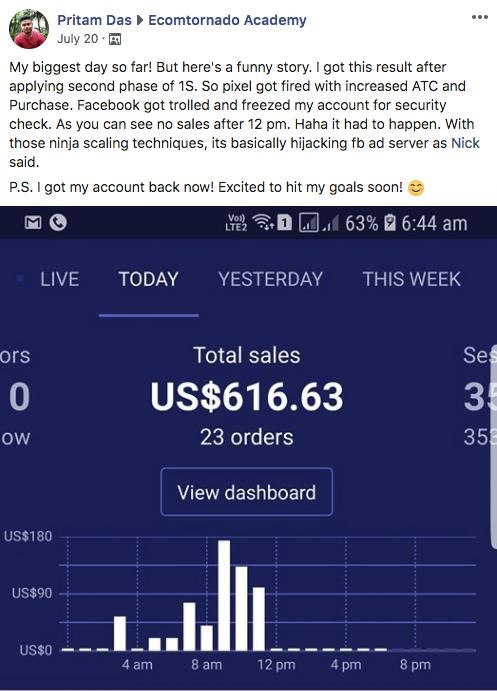 But you won't pay anything close to that.

I want to give you the best chance possible of changing your life, so you can access the exact same core eComTornado Academy Core Training my previous students invested $997 to receive, for a one-time enrollment fee of just $197.

If The Information Is So Valuable,
Why Would I Charge So Little?

My mission is to help a million people achieve their life and financial goals across India, South-East Asia and the Far East and I know for many people $997 is still too much money, even with all the skills and techniques they'd learn and could use for the rest of their lives.

By only having to invest $197 in the beginning, you can can spend more on your Facebook Ads thereby increase the chances of finding your first winning product campaign much sooner.
Then if you want to join my more advanced Inner Circle program later, you'll easily be able to cover the cost from your profits (not to mention, it may be tax deductible) ;-)
Everyone wins.

And if that wasn't enough …

You're Covered By My 1-Year, No Nonsense,
100% Money-Back Guarantee!
I want to make sure you're prepared to do this the right way, should you decide to give my training program a shot. When done correctly, generating income in this way is low-risk but you need to know what you're doing.
As with everything in the business world, there are risks involved and I'm certainly not going to insult your intelligence and promise you riches, instant or otherwise.
I don't know you, your existing skills, your work ethic or your will to succeed. But the testimonials on this page are proof if the training is followed and implemented correctly, incredible incomes are possible.
However, the truth is most people who take my training don't make any money with it, for a number of reasons. Maybe they're not following my training correctly, or maybe they give up too soon. So I want to make you a solemn promise.
After you've invested in my program, "test-drive" the eComTornado Academy for an entire year. Watch all 45 videos, research and select your products, place your Facebook ads and get as much help from myself and the other successful students in our friendly Facebook Group as you need.
Then at the end of that year, if you haven't made at least 10x your investment back in profit, email the eComTornado Academy Support Team showing that you've followed my training exactly, launched at least 20 campaigns during the year but still haven't been profitable, I will gladly and promptly refund 100% of your enrollment fee.

Fair enough?
So as you can see, there are three great benefits:
You don't risk a single penny by trying it
You'll learn a way of generating an income that most people (including other ecommerce store owners) don't know about
You'll pay far less that what I've charged other students before
I want to be completely upfront with you. This massive price discount is part of a marketing test and depending on how well it does, may not be around for long.
After the test period has passed, you may still be able to enroll in the eComTornado Academy (so long as admissions are open) but not at this price and with these terms.
Remember, you have 12 months to put the eComTornado Academy to the test.
Best of all, you'll receive a comprehensive "crash course" in ecommerce they don't teach in any business school, university or book. Insiders like myself and my students have been using this approach for the last 2-3 years and we're still only at the beginning of what's possible.
Now you can take advantage of what we've all learned, avoid all our costly mistakes and start tapping into a new source of income that's immune from the economic problems happening around the world today.
And who knows what new tips, tricks and techniques we'll find in the months and years to come? Become part of the eComTornado Academy and we can discover them all together.
To enroll in the eComTornado Academy at this temporarily low price, click the button below.
Best regards,
Your friend
Nick Arora
P.S. Remember, you risk nothing. If you haven't made at least 10x your enrollment fee after following my training for an entire year, let me know and I'll buy your training back from you.
I want you to make so much money that it doesn't just change your life, it forever changes the lives of your children and your children's children.
The legacy you leave will ensure your family doesn't just survive but thrives for decades to come.
So what are you waiting for? Click the button at the bottom of this page and take advantage of this risk-free offer. You won't be sorry, I promise you.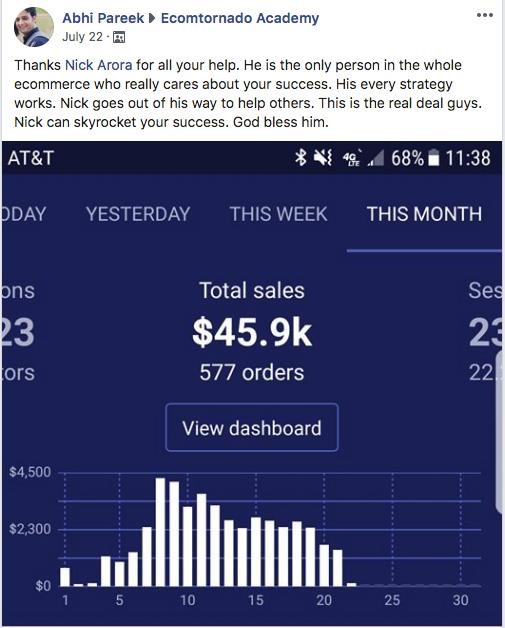 Disclaimer: The free shopify trial mentioned in this training is no longer working as of now (July 14th 2020). A standard trial of 14 days is working at this moment but do check shopify official website for the current status on trials and promotions.


Your Instructor
I have been sharing, teaching Ecommerce since 2016. Many of my students are making 6 figures and beyond per month on shopify right now.
Frequently Asked Questions
When does the course start and finish?
This is a monthly subscription course and every month modules like part 2, part 3 and advance scaling strategies shown above will be revealed as you progress.
How long do I have access to the course?
This is a subscription based course, you will have the access until you unsubscribed
What if I am unhappy with the course?
We would never want you to be unhappy! If you are unsatisfied with your purchase, contact us in the first 30 days and we will give you a full refund.